In case you've been living under a rock or something, the television series Mad Men, by AMC, is so hot right now.
Image via LA Times Blog
Part of the allure of
Mad Men
is people's fascination and infatuation with vintage fashion and home decor. I mean, we love the 1960′s, or at least the better part of it.In season five we see Don Draper living with his new wife in their swank new apartment in New York City (I'll leave it at that and spare the spoilers for those not completely in tune with the new season).
Needless to say, his new apartment in NYC is quite a bit of a different from his suburban home in Ossining, Westchester County, New York.
One thing is for certain, Don Draper's NYC apartment new apartment is so stylish and chic. Starting with the living room we see lots of classic 1960′s style.
Image via LA Times Blog
 L.A. at Home recaps the interior of Don Draper's new digs best. Talking to the set decorator of this apartment,
Apartment 17-B, right, set decorator Claudette Didul said, is "in a high-rise that feels like it was built in 1960 with a white-carpeted sunken living room and a fascinating fireplace and a Case Study-style kitchen with two pass through windows."
The walnut cabinets with the built in t.v. set and the "new" push button phone are just some of the modern 1960′s appliances of the time. But looking further, this apartment is a mixture of Don Draper's more modern minimalistic taste with a love of emerging technology and Megan's youthful taste (decor, colors).
Didul said Draper's love of sleek modern lines and high-tech gadgetry and manly appointments (leather lounge chair, countertop cocktail bar with a drum-shaped ice bucket) is contrasted with his new wife Megan's youthful taste and love of color.
The set decorator also took inspiration from two books by 1960s bestselling interior design author Betty Pepis and "Decoration U.S.A.," a 1965 collaboration between Jose Wilson and Arthur Leaman. "The colors of the rooms and furnishings are so vibrant in those books they almost make your teeth rattle," Didul said.
This is similar to the t.v. set and just as fabulous. Everything is contained inside just like the t.v. set. This is great for concealing your storage. Just close the top and it looks like a fabulous wooden end table with vinyl record storage.
Image via Pinterest
This mid century modern sofa looks very similar to the style in the Draper's apartment. It's from the same decade and has a gorgeous walnut frame. This looks to be in very good vintage condition as well. I do like the style of these sofas and it looks like the perfect length to sprawl out on with a book or take a nap.
Image via Etsy
And this coffee table from Etsy also looks like it could be in the Draper's new living room. It's a vintage mid century modern, Adrian Pearsall "Jacks" Coffee Table for Craft Associates.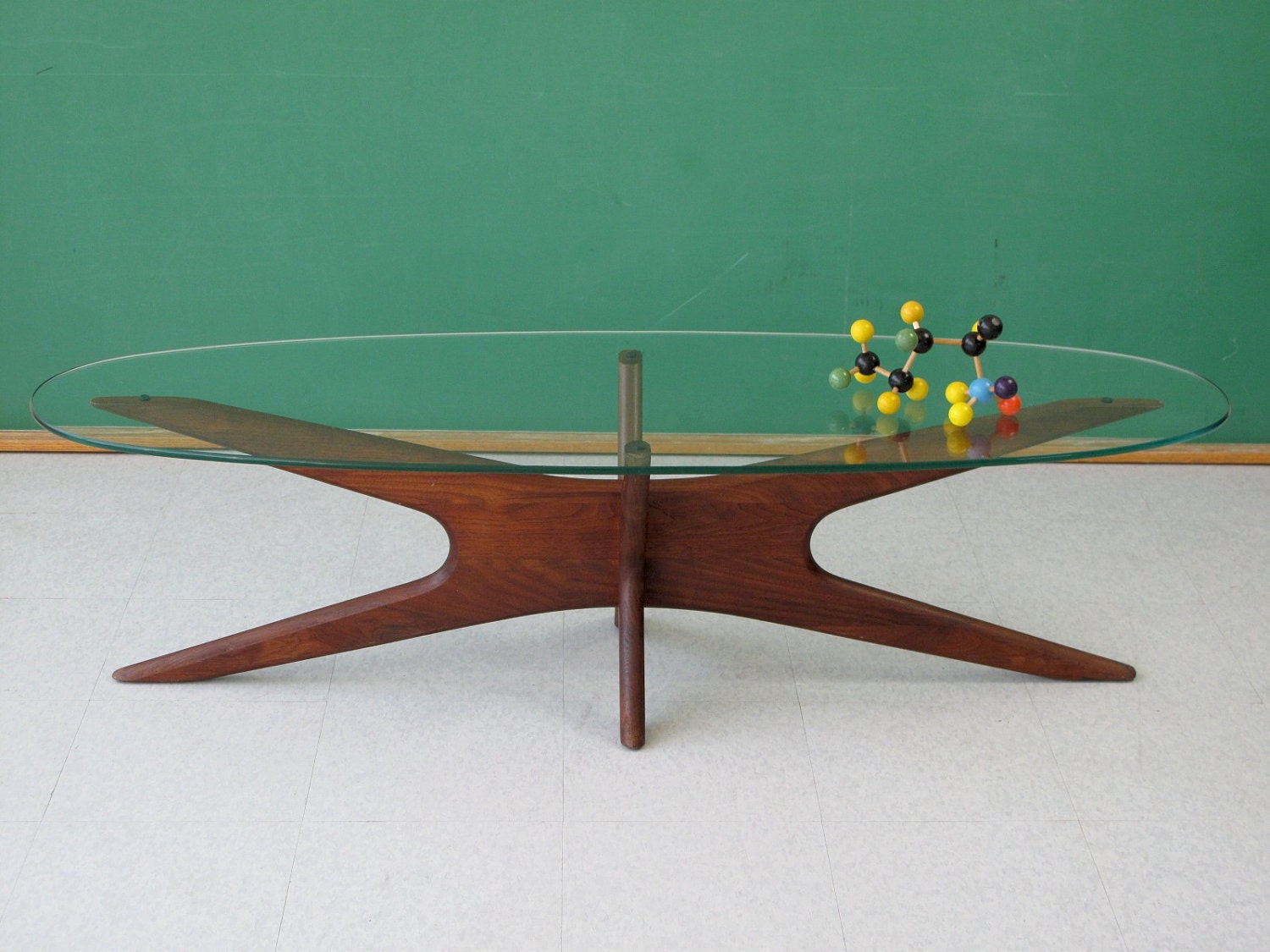 Image via Etsy
The kitchen is the just as fashionable as the rest of the house with blue cabinets and pops of coral throughout. The wallpaper isn't my favorite but it works in this kitchen. Overall, it's quite lovely. The cabinets are very De Stijl inspired.
Image via LA Times Blog
But, you don't just find cabinets and counters like this. So should come as no surprise that this part of the set was custom-built for the show.
Custom-built kitchen cabinets have a handy pass-through window to the dining room, a built-in cook top and a revolving spice rack, far left, purchased on Etsy. Didul shopped for glasses, cookware and kitchen accessories at the antique malls in Orange and Pomona, and the Pasadena Antique Center and Annex and Novotny's Antique Gallery in Pasadena.
Here's an example from an old 1960s kitchen design book. The cabinets are very similar except in different colors and the walls are patterned wallpaper with darker colors. In the window is the very well known De Stijl design by Piet Mondrian. These minimal blocks of color were popular in that art movement.
Image via Pinterest
This still image from the set is so amazing because it not only shows the Draper's kitchen and some of the little accessories in there but also how accurate the set designers are in recreating this era. The art direction is incredible! Right down to the loaf of bread on the cutting board!
Image via LA Times Blog
As far as housewares goes in the Draper household… These yellow roly poly glasses are definitely a staple. Don even has a set of metallic roly poly's in his office. I could definitely see the Drapers pulling these off the shelves of their chic NYC apartment. I like the vintage feel of these glasses. Imagine having people over, they ask for a drink, and you hand them these cool vintage cups. People don't expect it, but it's does look cool and it's kind of unique. Incorporating vintage pieces into the home adds an element surprise.

Image via Etsy
While we're on the topic of housewares, what about this Digsmed 18 bottle teak spice rack? This vintage piece is made in Denmark in 1964. The rack on the wall in the Draper's apartment only has eight bottles, probably to accommodate the smaller space.
Image via Etsy
So, if Megan ever had to entertain for tea time, I would have to say this is her tea set. She loves bright colors and I could definitely see something like this in the apartment. I love this coffee set by the way. Teal/turquoise is one of my favorite colors in the world, and when pared with white, like on the inside of the cup, it really helps to enhance the vibrancy of the color.
Image via Etsy

To see more rooms and for an in depth look at the set of Mad Men as well as a list of Didul's shopping sources for Apartment 17-B, make sure to read 'Mad Men': The story behind Don Draper's new digs by the L.A. Times Blog!