Are you at a point where your bedroom is just, well, boring?
Maybe you've outgrown the style or maybe it's just time for change.
Redecorating is easy if you know what to look for.
And it's as easy as ABC. No really, it is.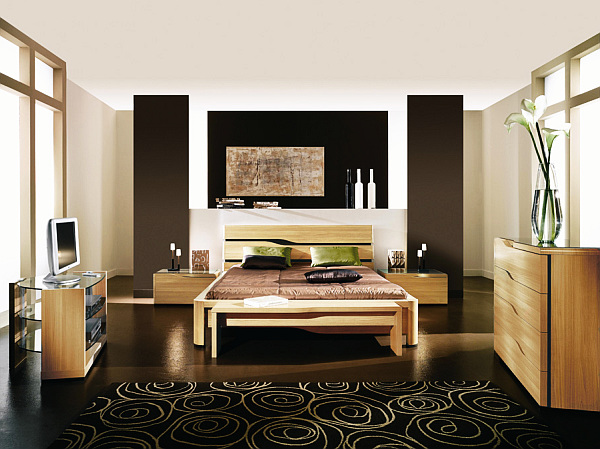 Image via Decoist
How contemporary is this bedroom? It totally looks like a NYC hotel room. This would be a perfect retreat from the rest of the world. And it follows those ABC's if you know what i mean. If you love this bedroom, and want to see more, check out the rest of the blog post here at Decoist.
So, back to those ABC's. It's important to consider your Arrangement, Belongings, AND Color.
Here's why:
A: Arrangement.
This is crucial. The arrangement of your bedroom can make it look better, or so much, much, much worse. You don't want to end up with a bedroom that is completely mismatched and randomly placed stuff. The items in your bedroom should be consciously placed there. This is just one reason why you need to take into consideration of the arrangement in your bedroom.
I remember many years ago as a child constructing my room to adapt the style of a grocery market. I placed my bed and desk in such a way I had designed my own private cash register portal. Never mind my having to climb over the bed to reach this portal. I thought I was in heaven. It didn't take long, 24 hours to be precise, to realize that a bedroom should never take on the character traits of a grocery checkout isle!
-Decoist
B: Belongings.
The best thing to do is place the items you use the most in a special place. Basically, you need to find a home for the stuff you use. A special place where they live, and will always be there when you need them. The placement of your belongings is one of the most important aspects of redecorating. One thing you don't want to do is have everything on display at once. This can resemble a yard sale. It's always a good idea to rotate decor or other items in your room. This will help reduce clutter as well as keep your interest in your room because the look of it stays fresher longer.
C: Color.
This seems like common sense, but it's not. Ever go into someone's house and the color completely throws you off. You either feel nervous and jittery or it's just a headache to look at. Well, Decoist recommends when you pick a color, to stay in that same temperature family (in other words, warm or cool colors, etc).
For accent colors it's better to pick colors that are soothing and draws people in rather a loud color. And when choosing your accent wall, choose it wisely. The accent wall is meant to compliment the other walls. Texture can also be used to contrast the room. For instance, you could have the same color on 10 different textures and it will have a different effect each time.
There you have it, the ABC's of redecorating. For more inspirational examples
check out Decoist!