Spring's here, flowers are blooming, the weather is starting to clear up, and Easter is just right around the corner.
Now that winter's over we're free to go outside and run amuck with your children.
Why not celebrate the emergence of spring with some fun projects to do with the kids?
Growing up, who didn't love drawing on the sidewalk with chalk? When I was younger doodling on the sidewalk with bright pink chalk was one of my favorite pastimes.
The only thing that stopped me from doodling was running out of sidewalk chalk and that stuff can get pricey. Instead of going to the store to buy some, how about make it yourself?
Sidewalk chalk is easy to make. It can take a few days to dry completely, but it's a super fun project you can make with your kids.
All you need is:
• Toilet paper or paper towel tubes
• Scissors
• Duct tape
• Wax paper
• Small bucket or disposable container to make the recipe
• ¾ cup of warm water
• 1 ½ cups Plaster of Paris
• 2-3 tablespoons of tempera paint
• Paper bag or a "mess mat"
Michelle Vackar, a contributor from oh my handmade gives step by step instructions and photos for the sidewalk chalk right here.
Once you're done with making your chalk… the sidewalk isn't the only place you can use it. Why not decorate some Easter eggs with it?
This idea is so cool. I've thought about using chalkboard paint on furniture, like a coffee table or something like that, but I never thought to use it to decorate Easter eggs.
How clever! It's a really neat way to try something different. And if you, or little lady or gentleman don't like the way your egg designs turned out, just rinse it off and start over!
It's really simple to do as well. Just paint the eggs, let them dry, and decorate!
For more elaborate instructions check out this tutorial by it's overflowing!
On the top of handmade items… The Frugal Girls posted this recipe for homemade playdough and it is all kinds of awesome. Not only do you have the freedom to make up whatever colors your kid wants, but also, they get a mini-cooking lesson if you let them in homemade on the fun.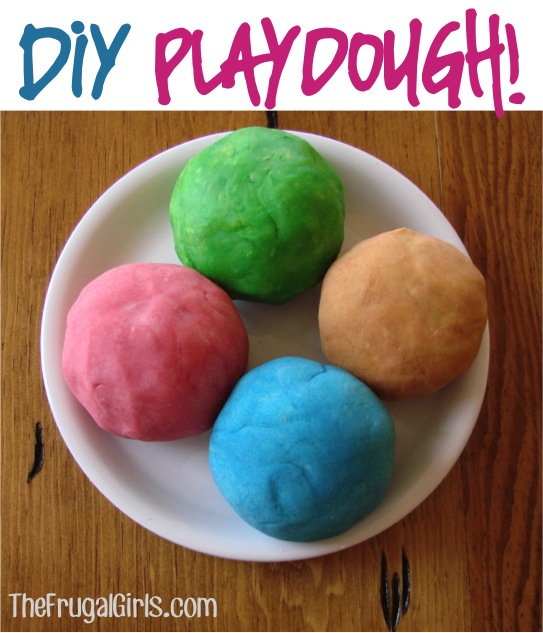 All you need is:
1 cup Flour
1 cup Water
2 tsp. Cream of Tartar
1/2 cup Salt
1 tbsp. Vegetable Oil
Food Coloring
Optional: Vanilla or Peppermint Extract, or Pumpkin Pie Spice
For a smaller batch divide recipe in half
Step by step instructions with photos can be found in the tutorial here. What do you think of homemade playdough? What was some of your favorite things to make with playdough growing up?
While we're on the subject of childhood toys…
Remember these things??
Image via
The Toy Maker
They're called cootie catchers! I'm almost positive we're all guilty of making one during our elementary school years. Well as soon as I saw this children's furniture by foldschool it reminded me of a cootie catcher, but just on a much larger scale.

Image via inhabitat
Well, I bet this is something we all wish we had when we were kids. This furniture is crazy-cool and looks like it entertains for hours. Plus, there's no worry of spills or messes because it's made of cardboard. If it gets ruined, you have the luxury of making a new one rather than having to buy new children's furniture.That adds a practical feature as well.
This great DIY is super easy to make, too. All you need are scissors, cardboard, and a printer. It's that simple!
Check out more images from inhabitat as well as the tutorial here!
As if geometric foldable furniture wasn't enough! This melted crayon artwork will be sure to spark your child's creative streak.
Image via Design Happens
With a house full of children, or just one, you might find that you have an excess in crayons just lying around waiting to be used. So, why not put your excess crayons to creative use?
All you need is:
hot glue gun
crayons
white canvas or white board
hair dryer
Assemble the crayons at the top of the board with the tips pointing down and adhere with a glue gun. A tutorial with photos is provided here.
The cool thing about this project is that there are so many different variations.
Check out these examples from Pinterest.
Monogram melted crayon art:
Image via Pinterest
Make it rain!
Image via Pinterest
Melted crayon dot art:
Image via Pinterest
Melted crayon flowers:
Image via Pinterest
There you have it, a simple yet creative art project to do with the kids using things you have around the house! And with so many variations, you can really come up with anything!
Mother's day only next month. Momtastic shows five different vases that are kid-craft friendly. Here's just one idea of five:
These vases are relatively easy and cheap to make. Just save a handful of jars, soak them in warm water to remove the labels. When labels are removed and jars are dry, tape off where you would like to paint colored chalkboard paint. Then voila! Personalized vases perfect for mother's day and easy enough for a kid to make.
Check out the other vase ideas here.
But you know what they say April showers bring May flowers… Here's how kids in Seattle beat the rainy day blues.
Going on a road trip? Real Simple makes it real simple to assemble a great DIY activity travel kit.
Check out these other kid's projects!
P.S. here's a tutorial on how the make the cootie catcher featured as well as the template for the design featured in this blog.